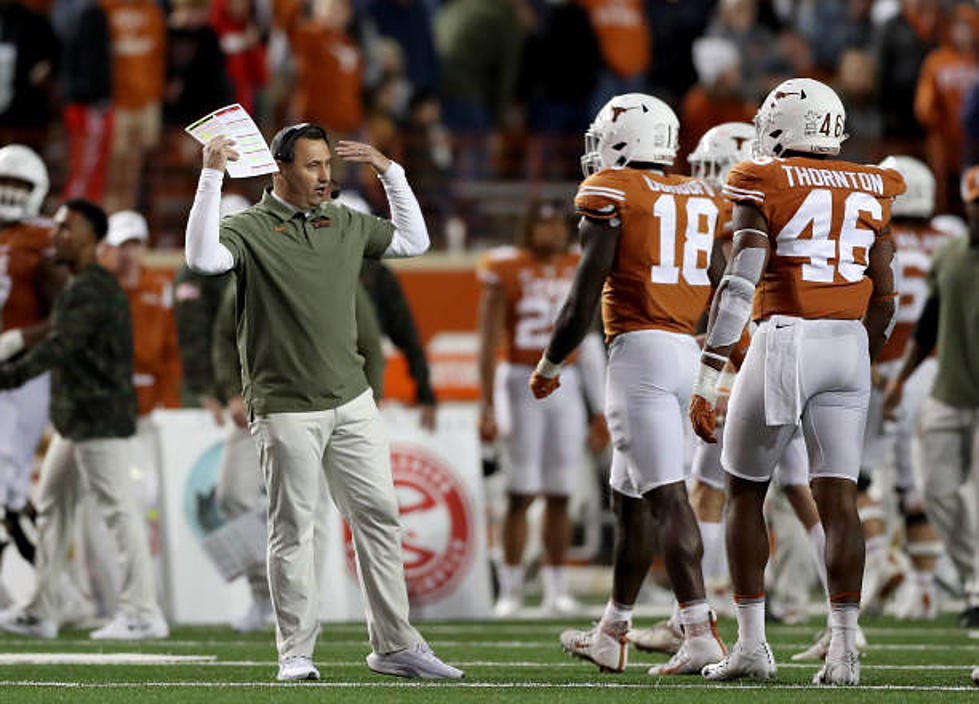 Is Texas Coach Steve Sarkisian Being Pressured to "Play Players Based on Race"?
Getty Images
A former Longhorn and Lubbock area high school football player made claims that University of Texas school boosters are pressuring head coach Steve Sarkisian to encourage "playing time based on race."
Brian Jones is a CBS college football analyst. The Lubbock Dunbar High School graduate played linebacker at Texas in 1989 and 1990. Last week, Jones went on an Austin sports talk radio station and suggested that he knows there are donors that are putting pressure on Sarkisian to make roster decisions based on race.
Here are Jones' comments from the web site brobible.com:
"There's a lack of trust in that locker room, because guys are being told one thing to their face and then other things are transpiring because of all the other cooks that are trying to manipulate this football program. So, I don't know how it gets fixed other than pleading with these five or six heavy-handed donors to leave the damn football program alone."

"I thought we were all in this to win. And there's no way you're going to win when you're asking or trying to dictate to your head coach who plays and in some instances it's crossing color lines, which is definitely unfortunate."

"But I'm not terribly surprised there, either. All you have to do is revisit those emails last year, a year and a half ago when we were discussing The Eyes of Texas. So, it's just a huge shame and it needs to stop right now."
Texas Athletic Director Chris Del Conte called the comments "the most absurd thing I've ever heard" and said Jones' claims were untrue according to the web site hookem.com,
This really does sound absurd if you ask me. I do not know what Jones' motivations are for saying this. He did not want to disclose his sources, so you do have to wonder about the veracity of his comments.
28 Epic Memes About the Big 12 Bustin' Up
CHECK IT OUT: 100 sports records and the stories behind them
7 Options for Texas Tech and the Big 12 After the Sooners and Longhorns Go to the SEC
If the Big American Conference doesn't work out, here are 7 other options.
More From ESPN 960 San Angelo