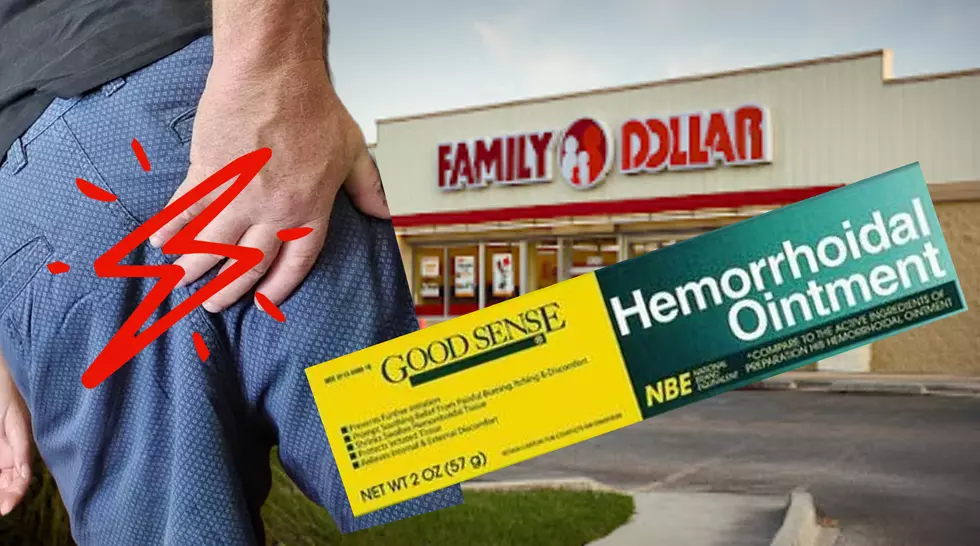 Pain in the…Family Dollar Recall Includes Hemorrhoidal Cream
Photo: Google Maps, Photo Joseph Browning for Townsquare Media, Photo: Amazon
It is hard to calculate exactly how many Family Dollar stores there are in West Texas. There's probably a new one opening right now somewhre.  San Angelo has five alone. As people are pinching pennies these day, many are finding economic relief from discount stores like Family Dollar.
But Family Dollar is going through some stuff.
Back in February, an inspection at a Family Dollar warehouse in West Memphis, Arkansas found unsanitary conditions including thousands of dead rats. Workers said they feared gangs of adolescent rats attacking warehouse workers in swarms. If you noticed some of the items you bought at Family Dollar had that strange hard to place urine smell, chances are you weren't imagining it.
Fortunately, Family Dollar closed that warehouse. You've heard of rats off a sinking ship. In West Memphis, their expression is "rats out of a closing warehouse".
Now, Family Dollar is in the news again. This time, the voluntary recall covers hundreds of items regulated by the Food and Drug administration that were stored outside recommended temperatures.  Let's face it, almost all of us have been stored outside recommended temperatures lately, but I digress.
The 425 items were shipped to stores from May 1, 2022 through June 10, 2022.  Family Dollar store managers have been advised to check their stocks and stop selling the items. I wondered why the clerk at one local Family Dollar store recently asked me if I really wanted to buy that Colgate Baking Soda Peroxide Whitening Toothpaste Brisk 6 ounce Mint 2-Pack.
The list of recalled items is staggering. It includes toothpaste, mouthwash, skincare products, over-the-counter medication and other hygiene products. Customers are advised to return them to the store where they were purchased and a complete 9 page list can be found at the Family Dollar website.
Customers with questions can also call Family Dollar Customer Service at 844-636-7687. However, take it from me, they don't like it when you call and ask them why their products suck or why can't they get their act together.
If all of this is turning into a big pain in the butt, remember you don't want to soothe that pain with Good Sense Hemorrhoid Ointment you bought at Family Dollar.  It's on the recalled list.  Imagine the surprise encountered by hemorrhoidal sufferers who just want to relieve the burn and itch of a flare-up, only to find their ointment has been stored at the wrong temperature.  Even worse, if it's still too hot.
Maybe, they should just slap a "refrigerate after opening"  sticker on it.  This just might end up being the new mantra of life in our modern age.
Stay Fresh In the San Angelo Heat with These
Products For When You Aren't Sure You're Fresh--EVERYWHERE
8 Common Problems Caused by Texas' Extreme Dry Weather
Here are the top 8 problems that overly dry air can cause here in San Angelo.
More From ESPN 960 San Angelo